Oceanwings pelagic – 1 June 2008

During the OSNZ AGM weekend a group of 'break-away-birders' organised their own pelagic with Oceanwings on 1 June 2008, to head out a little deeper. This trip proved its worth with sightings of some great birds, including the first WHITE-HEADED PETREL seen from an Oceanwings pelagic. This bird gave good, but brief views, with an excellent photo snapped by Steve Wood – see the Rarities page here. Other good birds included two Antarctic fulmars, and three grey-faced petrels (not often seen down here). A 'white-throated' white-chinned petrel also put in an appearance, and was presumably a bird from outside of New Zealand waters.
Apart from these excellent birds the usual suspects were also seen, with the trip list (compiled by Russell Cannings on BIRDING-NZ) looking something like this –
1 WHITE-HEADED PETREL
2 ANTARCTIC FULMAR
3 GREY-FACED PETREL
Gibson's and Antipodean albatross
Northern Royal albatross
Southern Royal albatross
White-capped albatross
Salvin's albatross
Black-browed albatross
Buller's albatross
Northern giant petrel
Southern giant petrel
Cape petrel [mostly australe, but at least 2 capense]
Fairy prion
White-chinned petrel [Including a "white-throated" individual]
Westland petrel
Sooty shearwater
Hutton's shearwater
Fluttering shearwater
Common diving petrel
STEVE WOOD & RUSSELL CANNINGS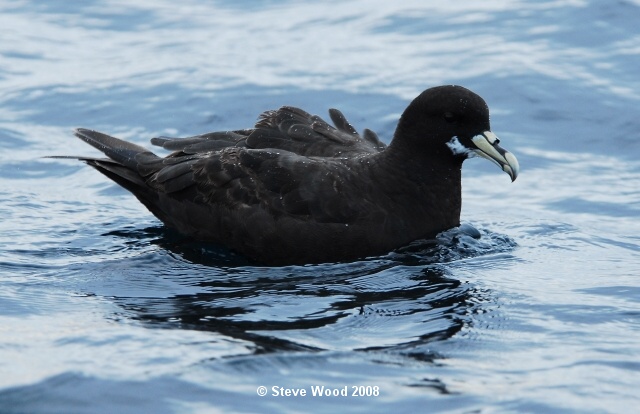 Above: White-chinned petrel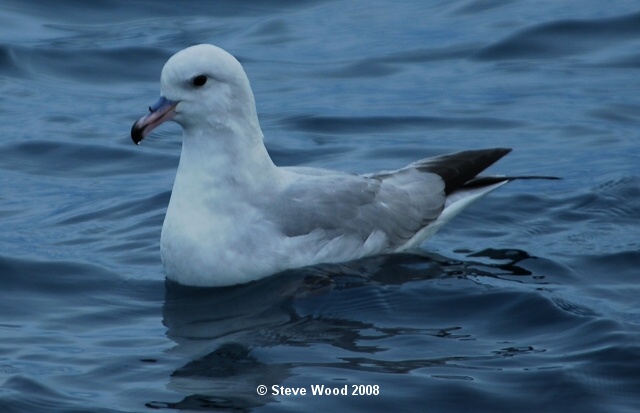 Thanks to Steve for the use of his copyrighted images above. If you would like to use them, then please contact me first.