Far North pelagic – 30 September to 1 October 2006
This is a trip report for a 2-day pelagic which we ran out of Houhora in the Far North over last weekend. Huge numbers of birds were present, and a really good variety of species, including a few surprises. The mix included most of the summer breeders of the region and a lot of southern birds which have yet to leave.
Saturday 30 Sep was spent out to the NE of Houhora, anchoring overnight at North Cape, and then North of North Cape Sunday morning (1 Oct) before returning to Houhora in the late afternoon. Skipper "Tank" Barker looked after us royally on the good ship Demelza. Also on board were Peter Carnall, Ian Smith, Brent Stephenson and myself.
The highlights were: a LONG-TAILED SKUA (perhaps surprisingly the only notifiable rarity), 30 wandering albatross at one burley stop,black, grey and white-chinned petrels together on the water, a massive feeding flock of which may have had 1000 birds in it, and fantastic views of just about everything!
Species lists for each day follow – the numbers are: a – number of sightings, b – estimate of total numbers, c – max at any one time.
30 Sept –
Wandering Albatross (Gibson's?) 20+,40,24
Wandering Albatross (Antipodean?) 5,5,3 much debate as always over the subspecific identity of the Wanderers, and I think the only sure thing is that we had some of each!
White-capped Albatross 5,5,2
Black-browed/Campbell Albatross 8,5,2 the only adult was a Black-browed
Northern? Buller's Albatross 1,1,1
Northern Giant Petrel 4,4,1
Southern Giant Petrel 1,1,1
Buller's Shearwater 100+,1000,100+
Sooty Shearwater 30+,250,100+
Flesh-footed Shearwater 8,10,2
Fluttering Shearwater 4,500+,500+
Little Shearwater 20+,40,5
Common Diving Petrel 13,50,30+
White-chinned Petrel 8,10,4
Black Petrel 1,1,1
Cape Petrel 20+,10,5 (including one of the southern subspecies)
Fairy Prion 10,20,4
Cook's Petrel 11,20,3 (and a few unident cookilaria)
Grey-faced Petrel 6,10,5
White-faced Storm Petrel 20+,100,50+
Blue Penguin 1,1,1
Australasian Gannet 5,15,8
Brown Skua 1,1,1
and a Sunfish and 70+ Common Dolphins
1 Oct –
Wandering Albatross (Gibson's?) 16,40,25
Wandering Albatross (Antipodean?) 6,8,4
White-capped Albatross 7,7,2
Black-browed/Campbell Albatross 7,10,5 only adult was BBA
Northern Giant Petrel 2,2,1
Southern Giant Petrel 1,1,1
Buller's Shearwater 20+,500,50+
Sooty Shearwater 15,250,200+
Flesh-footed Shearwater 2,2,1
Fluttering Shearwater 3,200,100+
Little Shearwater 30,150,50+
Common Diving Petrel 20+,500,100+
White-chinned Petrel 6,10,8
Black Petrel 4,6,2
Grey Petrel 2,2,1
Cape Petrel 10,10,3
Fairy Prion 3,3,1
Cook's Petrel 13,13,1
Black-winged Petrel 3,3,1
Grey-faced Petrel 25,40,10
White-faced Storm Petrel 20+, 1000+, 500++
Blue Penguin 4,5,2
Australasian Gannet 6,20,7
Long-tailed Skua 1,1,1
Brown Skua 2,1,1
and an unidentified whale blow – very tall and thin.
SAV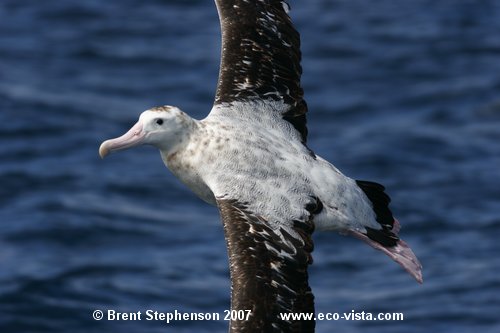 Above: Wandering albatross – probable Gibson's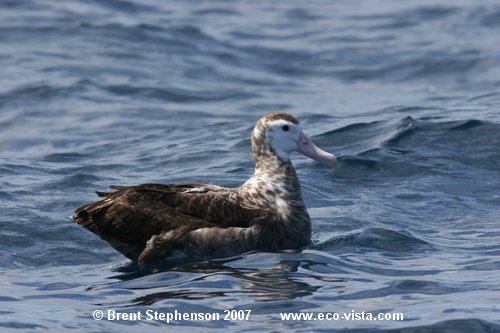 Above: Wandering albatross – probably Antipodean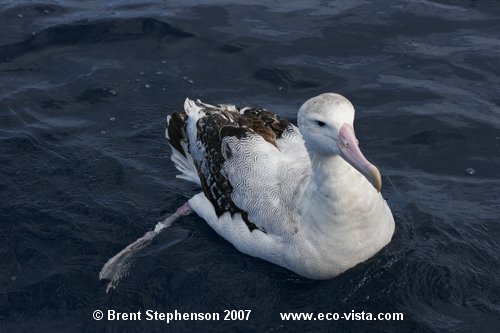 Above: Wandering albatross – probable Gibson's (banded)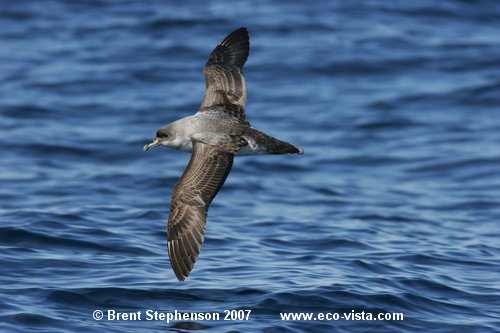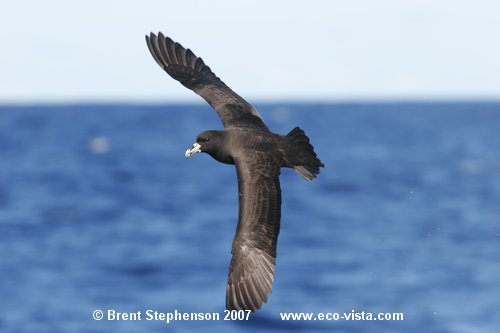 Above: White-chinned petrel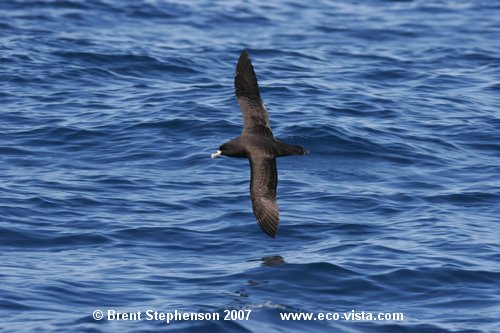 Above: White-chinned petrel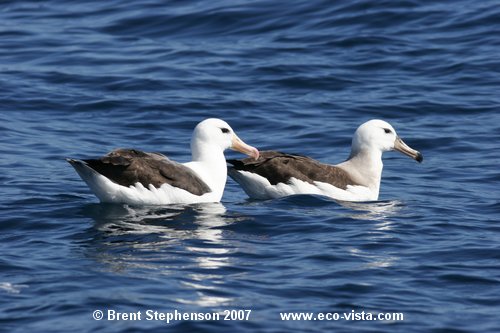 Above: Adult (left) and immature (right) black-browed albatross (immature is probably a black-browed rather than Campbell by association, but identification not definite)