Manawatu Estuary – 11-15 November 2003
11 November 2003
I made a quick lunch-time visit to the Manawatu Estuary today, and found Roger Slack and Lindsay Davies just setting up their scopes at the sandspit. Lindsay quickly located a whimbrel (didn't see it fly, so don't know what subspecies) but it might be a different bird to that seen previously – last seen on 12 October 2003.
In amongst the red knots I soon found a juvenile GREAT KNOT, then another one, and then another!!!!! All three were juvs, with distinct pectoral streaking/spotting like gigantic pectoral sands. They all stood out markedly from their smaller cousins, with very white underparts, big droopy bills, streaky crowns and long dark primaries.
The very first record of great knot for NZ was 3 birds at the Manawatu in Oct 1967, since then at the Manawatu there have been 6 singletons and now these 3 – confirming the Estuary as the top spot in the country for this species.
After last summer's paucity of rare waders at this site we have now had sanderling, shore plover and these 3 in 3 weeks – and it's not even half way through November yet!!
SAV

13 November 2003
All three great knot were still present today. Also now three Asiatic whimbrel, a turnstone and a little tern, and 5 wrybill. Brent managed to get fairly close to the roosting flock, and after a bit of patience managed to get some good photos of the great knot and the whimbrel.
There was at least one orange flagged red knot, and Brent also got brief views of a red knot with a metal band on the left leg and leg flags on the right. Above the knee on the tibia was a white flag, and below on the tarsus was a dark flag, which at the time didn't give any indication of colour. It now seems that this is almost certainly one of 78 red knot flagged white above, black below, at Chongming Dao in China (73 in Arpil, 5 in Aug/Sept 2003). A red knot with this combination of flags was seen at Mataitai (northern Firth of Thames) by Tony Habraken on 8 Nov 2003 – this was the first seen in New Zealand – could this be the same or another bird?
I can see how three great knot, presumably travelling together, made it here, but what mechanism brought one, then 2 (there were 2 on 12 Nov), then 3 whimbrel here over 3 days? Whimbrels are a pretty rare/unusual visitor to the Manawatu – so how does that work? It reminds me of the year that marsh sands arrived at Miranda – one, then 3, then eventually 6…………
BRENT & SAV
15 November 2003
Today there were FOUR great knots, the previously reported 3 juveniles are now accompanied by an adult. I can be more-or-less certain that this fourth bird was not present during the week – I'm quite sure that Brent or I would have seen it at least on Thursday.
Also 2 whimbrel, little tern still present. No sign of the white/black flagged red knot though.
SAV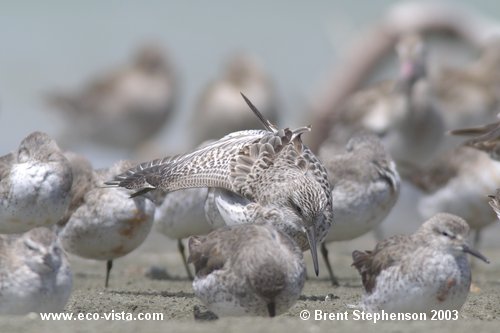 Juvenile great knot stretching
Juvenile great knot (centre asleep) with red knot to left and bar-tailed godwit to the right