Porangahau Estuary – 21 February 2003
Called in at Porangahau Estuary on my way north for the Tolaga Bay Pelagic to see if the sanderling first seen there on 16 Feb 2003 was still present. The weather was not good, with probably the first rain this drought stricken area had had in who knows how many months steadily falling and a very cold southerly wind blowing.
However, after only about 15 minutes walking I found the bird in the same area as it was first reported. I managed to get a few good photos of the bird busily feeding, mostly on its own, although there were wrybill and banded dotterels in the area. At one stage it was chased by a wrybill, strange as wrybill are normally very tolerant.
I ended up almost lying in the mud/sand with the bird about 30 metres away, and after a very cold and uncomfortable 20 minutes or so it had worked it's way to within about 10 metres, allowing some pretty close shots. The lighting wasn't great, but the final shots aren't too bad.
BRENT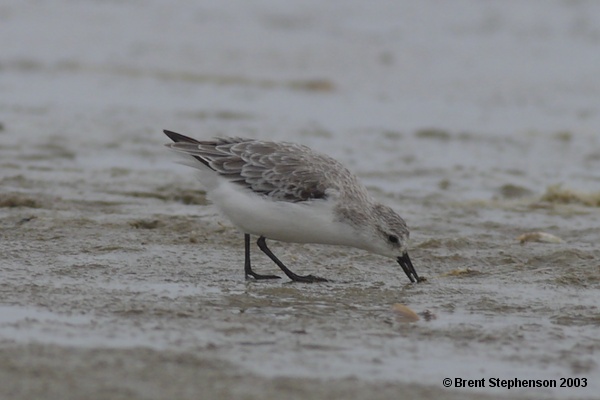 Sanderling in winter plumage
Sanderling in winter plumage