Manawatu Estuary – 23 November 2002
Today was the first of the hopefully annual "Welcome to the Birds" events run by the Manawatu Estuary Trust (MET) at Foxton Beach. The weather was glorious and attracted in excess of 75 people out to the estuary. Good for MET, this number included both radio and print media, so the main aim of publicising the Trust and the estuary seems to have been met (no pun).
And the birds performed as well, allowing some non-birders the chance to see arctic waders at close quarters. Birds present were:
Eastern Curlew 1 quite a rarity here these days
Bar-tailed Godwit uncounted but more than 300
Red Knot uncounted but more than 150 included one orange flag
Banded Dotterel 1
Sharp-tailed Sand 1
Curlew Sand 4
Red-necked Stint 1 (maybe 2)
Pacific Golden Plover 12
Little Tern 1
SAV
A good selection of waders turned up for the day, the curlew can be seen at the back on the left hand side.
Sav being interviewed by a local reporter….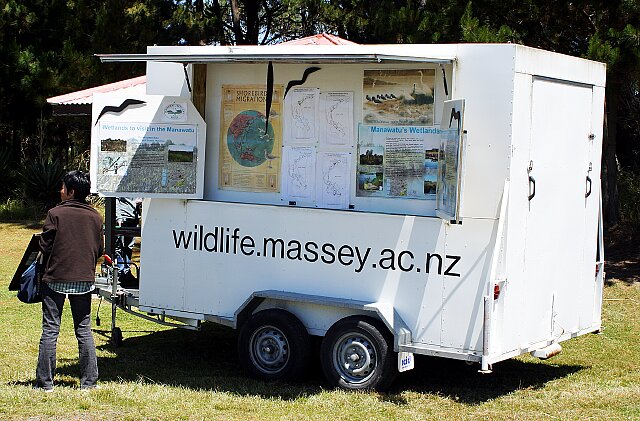 Display trailer set up with information on the Estuary and the Manawatu Estuary Trust.
If you are interested in becoming a member of the Manawatu Estuary Trust, or would like information, please email the Secretary, Judith Tyler