12/11/04 Australian reed warbler, Acrocephalus australis, at St Annes Lagoon, Canterbury
On 12th November 2004 an Australian reed warbler was found by a Naturetrek bird tour at St Anne's Lagoon, but they did not report it until 28 November 2004. However, the first we knew of the bird was a report from Nick Allen on BIRDING-NZ on 14 November, who had received a phone call from Sheila Petch, who had in turn been notified of the bird by Harry Furling, a former resident of Holland. Luckily Harry had recognised the song as being that of a reed warbler, and finding Sheila listed in the phone book as the OSNZ contact in Canterbury, had called her. Nick immediately headed to the site, and found the bird singing loudly on the evening of 14 November, and later that night posted again to BIRDING-NZ confirming the identification, and that the bird was still present. The bird seemed quite at home singing loudly in a small patch of raupo beside the picnic spot at this small lake, and over the next two weeks more than 40 birders were able to see it. Interestingly enough, another British birder also independently found the bird at the same site, so at least three groups/individuals found this bird independently! Sav made the trip to see the bird on 19 November, watching it perform well for just under an hour. Steve Wood managed to see the bird on 21 November, and it was again seen on 23 November, and then finally on 28 November by Nick Allen (on his fourth visit to see the bird). Several people searched for it unsuccessfully on 29 November, with Nigel Milius also looking for it unsuccessfully on 30 November, and Brent spending 2 1/2 depressing hours searching on 1 December. Alas the bird had departed! A first for New Zealand, this sighting was accepted by the OSNZ Rare Birds Committee in the September 2005 issue of Southern Bird.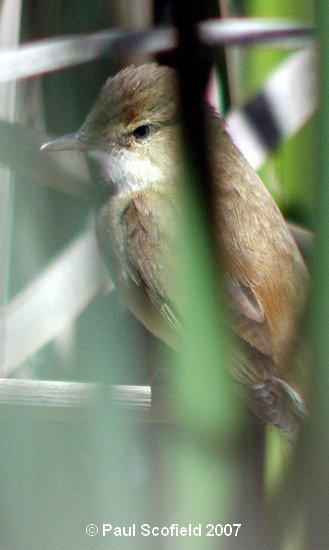 The above photograph is copyrighted by Paul Scofield, thanks to him for the use of this image. If you would like to use it, then please contact me first.
The above photographs are copyrighted by Rob Lawrence, thanks to him for the use of these images. If you would like to use it, then please contact me first.