17/12/05 Hardhead, Aythya australis, Bromley Oxidation Ponds, Christchurch
Roger McNeill, Steve Wood and Brent spent most of Saturday 17 and Sunday 18 December at or near the Bromley Oxidation Ponds searching for the whiskered tern that had been seen at the site and reported via BIRDING-NZ by Andrew Crossland on 14 December (being seen through to 16 December – just my luck gone by midday the next day!). During the Saturday we spent most of the time scanning the ponds over which the tern had been seen, and whilst Brent casually used Roger's scope to look at the scaup on the pond, realised that the one in the centre of the view was not a scaup! The bird turned out to be a hardhead, so not a bad consolation prize! We spent several hours looking for the hardhead again on the Sunday, but did not pick it up, nor did we end up seeing the whiskered tern. We also checked Bexley and Charlesworth wetlands, the tip of the spit and parts of the Avon-Heathcote Estuary.
The record of the hardhead was accepted by the OSNZ Rare Birds Committee in June 2006.
It's out there somewhere….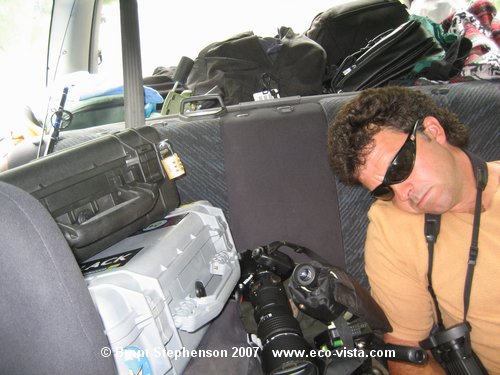 After all that scanning Steve was tuckered out and had to have a little nap on the way home….