13/10/08 Great shearwater, Puffinus gravis seen off Dunedin
Received from Russell Cannings via BIRDING-NZ – thanks to him for allowing us to post here, and well done!
"Today a visiting birder-friend (Jukka Jantunen) and I squeezed onto a small trawler for 12 hours (6am-6pm) out to a limit of 12.2nm (off the Otago Peninsula). Weather was mostly sunny though there were patches of heavy fog between 10-12nm. Wind was light in the morning but picked up a bit from the north in the afternoon.
I'll cut to the extreme highlight: GREAT SHEARWATER.
Around 7:30am the crew starting chucking fish off the back of the boat which attracted a big mob of Buller's and White-capped Albatross, as well as many Sooty Shearwaters among other things. Then all of a sudden around 5nm, a large shearwater cruised into our wake and both Jukka and I saw it at the same time. I just pointed and stammered, "Look at that!" but Jukka had his northern hemisphere wits about him and shouted, "Great Shearwater!!!" Luckily the bird followed us for a good 1.5nm so Jukka was able to get some good photos. Email me privately if you want to see them since I can't seem to send them to the group and there is no place to post photos on the Birding NZ website.
I recall that Chris G & Co. had one off the Chathams (1rst NZ record) so then this must be the 2nd NZ record and 1rst for the mainland. It might also be the 4th for the South Pacific. I would appreciate a status for GRSH if anyone knows. I know there are around 10 records for Western USA.
Great Shearwaters breed in the south Atlantic and migrate north at this time of year. They are vagrants to the eastern Indian Ocean.
Anyways, after that shearwater things went downhill… well it was a great day but how can you keep up that pace?
Here are some rough numbers on the seabirds seen out there today:
Southern Royal Albatross: 20+ (good variety of ages)
Northern Royal Albatross: 6+ (including two banded birds)
White-capped Albatross: 200+
Salvin's Albatross: 40+
CAMPBELL ISLAND ALBATROSS: 1 adult
(Southern) Buller's Albatross: 40+
Northern Giant Petrel: 10+
Southern Giant Petrel: 2
White-chinned Petrel: 7+
Fairy Prion: 30+
Prion sp.: 3
Sooty Shearwater: 6000+
HUTTON'S SHEARWATER: 3 (all solos heading southward)
GREAT SHEARWATER: 1
"Yellow on head penguin" sp.: 1
Stewart Island Shag: 4 (foraging as far out as 12nm)
Black-backed Gull: 15+
White-fronted Tern: 11
Until next time,
Russell C
Dunedin"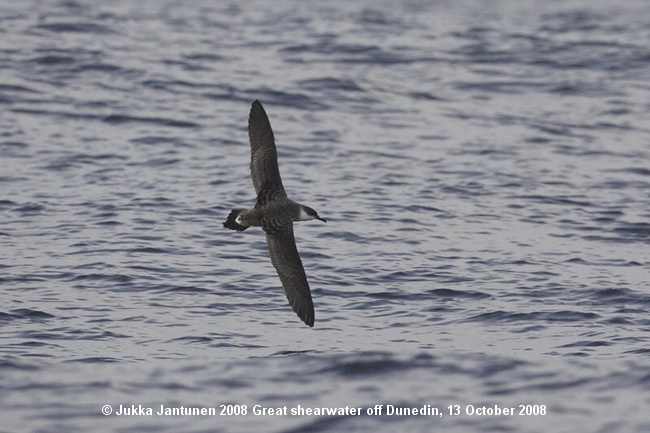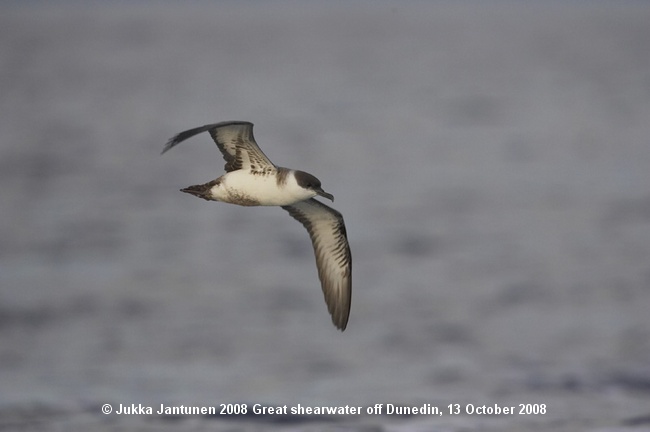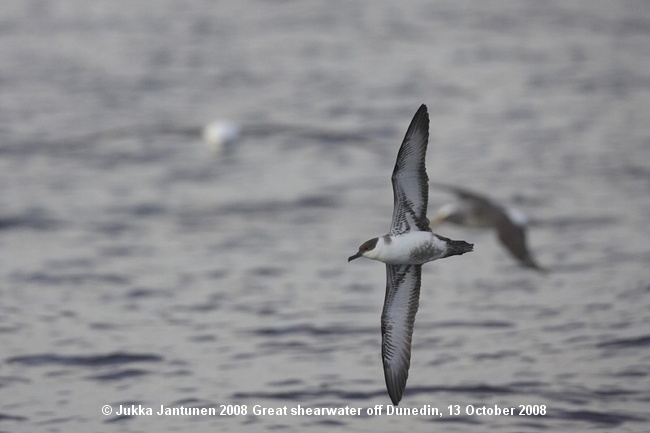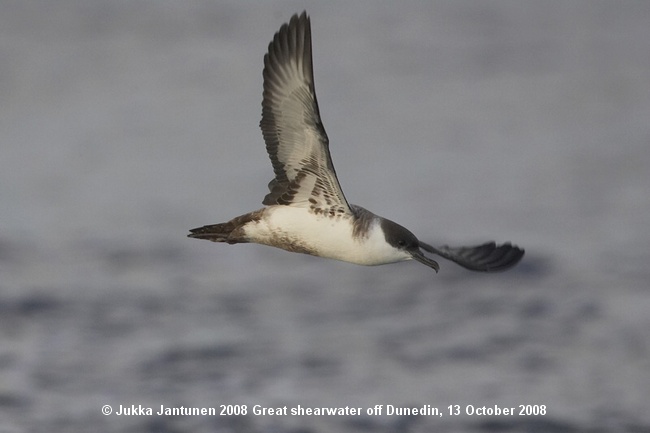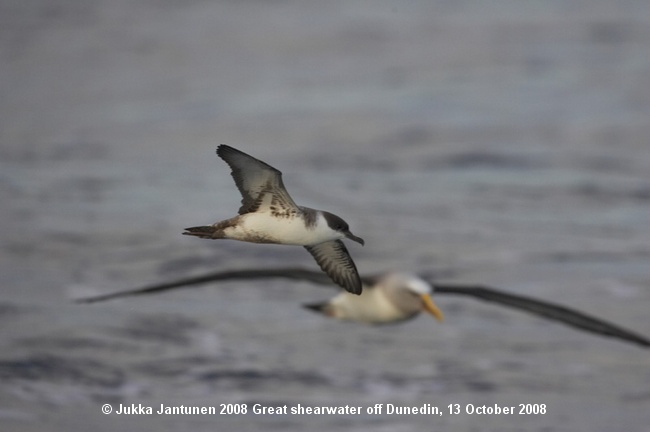 Thanks to Jukka Jantunen for use of the images above. All the above photographs are copyrighted. If you would like to use them, then please contact me first.