10/01/07 Channel-billed cuckoo seen on Motiti Island (Bay of Plenty)
On 08/01/07 Tim Barnard and Brent received an email from Ali Martin, who lives out on Motiti Island in the Bay of Plenty, saying that they had been watching a channel-billed cuckoo over the previous few days! It had been flying into a stand of tall trees at approximately 5pm each evening since 31/12/06. It particularly seemed to like a plum tree which was heavily ladden with ripe plums.
The bird was not seen on the evening of the 8th or 9th, but in the hope that it might still be around Tim Barnard, Murray Smith and Brent flew out to Motiti Island arriving about 1430 hrs on 10/01/07. We were met by Ali and Vernon at the airstrip and shown around all the places the bird had been seen…."It was on that branch", "It perched there", etc. Tim Barnard posted the following to BIRDING-NZ later that night….
Brent, Murray Smith and I arrived at Mt Maunganui at lunchtime under blue skies and in warm sunshine which after the night before was something of a miracle. Our plane was ready and so we set off early full of optimism. The flight to Motiti Island was short though the touch down was interesting. Never quite experienced 180 degree bank while in the process of landing before…
The island is fringed with pohutukawa forest but most of the interior is pasture and avocado plantations. There didn't appear to be too many places a large bird could hang out without being spotted. Our optimism grew.
We were met at the (air)field (which doubled as a vehicular graveyard) by some residents who offered us a lift. So we all piled into the back of the van with a big dog and four kids. Before long we met our hosts Ali and Vernon who had reported the bird in the first place. They took us up to a small camp site next to some mature plum trees and skirted by tall eucs. There we were shown all the trees the bird had visited – one by one.
The bird had been seen at 5pm routinely for 9 nights since 31st Dec. Though admittedly not for the two nights before we arrived but then the weather had been so bad no one was looking (or so we hoped). It had been feasting on mature plums – so much so that it had stained its throat pink. Given the abundance of food – why would it have gone we thought.
We had time before happy hour so we split up. Murray and Brent went off to search the plantations and I went looking for a CD player. Brent succeeded in finding a heron eating a rat! And I found a sound system capable of pumping out enough volume to pull a cuckoo in from Aus. I cranked up the volume and subjected the area to a rendition of C-B Cuckoo but only succeeded in making two small children cry and dragging Brent and Murray back from the surrounding bush.
As 5pm drew closer we (as in Brent and I) became more and more tense. Still no cuckoo. Sensing our increasing nervousness, Ali produced some coffee and cakes. That helped a little. We retreated to the plum trees and took up strategic positions covering every possible approach to the fruit. No bird could take one plum without being spotted. We waited and we waited. Time passed, beers were opened and the awful gut feeling that the bird wasn't goint to show took over. Shortly after the last drop of optimism had evaporated Ali suggested that it was time to go.
We drove slowly back to the airfield. There we had a long wait for our plane home. Yep we were disappointed but it was a great experience to visit the island and meet some of the people that live there. It certainly was an insight into a part of New Zealand life I've never experienced before. I don't think I'll have to wait for a cuckoo to turn up before I go back.
The article below was published in the local Tauranga paper on 11 Jan 2007 and following that Tim received several phone calls. It now seems the bird left the island on 9 Jan and was spotted in Tauranga, then was next seen near Bethlehem on 10 Jan, probably only hours before Brent left the island and drove right under the powerlines it had been seen on! Over the next couple of days several reports of the bird were received, but by about 17 Jan the trail seemed to have gone cold…and a great bird seems to have slipped away! This would be the 7th record of the species for New Zealand, with the last being one seen at Mangawhai Heads on in October 2002.
Rare cuckoo clocks in after Tasman crossing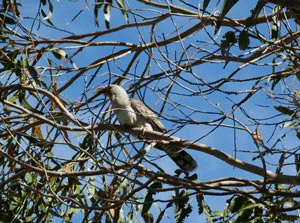 The bird world is in a flap with the discovery that a very rare specimen has returned to Bay of Plenty shores. Experts are asking the public to report any further sightings, believing it may settle on the mainland. Campers on Motiti Island were treated to a rare sight when the Channel-Billed Cuckoo turned up unannounced to gorge on plums growing at a campsite on the island. The bird, which is native to Australia, is around 60 cm high and is a pale grey colour.
Regional representative for the New Zealand Ornithological Society Tim Barnard says the bird is noticeably different from any native birds and has a large bill with a downward turn at its end. It breeds in Australia and then migrates to Indonesia and Papua New Guinea for the winter time, he says. " This one got seriously lost. It is the first one that has turned up in the Bay of Plenty. There have been five recorded sightings of the birds in New Zealand with the last one reported in 1996."
When he was contacted by lodge owner Ali Martin he and two colleagues decided to visit the island to try to spot the bird.
The bird however was nowhere to be seen.
Tim thinks it may have flown over to the mainland before the last front passed through and is quite likely in the Bay area.
"We're encouraging people to keep an eye out and report it to us if they see it." He says the birds like open countryside with a few trees around. They are also very fond of sweet fruits – particularly figs. In Australia the bird is often referred to as a Fig Hawk, he says. " If anyone has got any ripe figs on their property they should keep an eye out for it."
He says now it is here it is unlikely it will ever find its way home again. Anyone who spots the bird can report it to Tim on 07 345 3433. They can also contact the ornithological society through its website osnz.org.nz
The above photograph is copyrighted. If you would like to use it, then please contact me first.