Far North/Three Kings Pelagic – 1-4 April 2010
Organised by Brent Stephenson, Wrybill Birding Tours, NZ on a cost sharing basis (c.$1,200 incl. contribution toward fuel to get to Houhora, all food, and accommodation on board). Travelled up on 31st, arriving c.9.30pm and slept on board ready for off on the morning of 1st April. 7 of us, plus the skipper, so the boat, "Demelza" was full. A great trip!
1st April, Houhora to Tom Bowling Bay. Dep. 7am just as it was getting light, headed N, then NW back toward Tom Bowling Bay. Stopped to chum 12.30-1.15pm and 2.15-2.45pm. Arrived Tom Bowling Bay, our nights anchorage, c.4pm, then spent time, birding and fishing there.  Mainly sunny, light/mod E wind, swell around 1.5mtrs, though calm in the Bay.
2nd April, Tom Bowling Bay to Three Kings. Dep. 7.45am, chumming around the Kings Bank between 2.20 and 3.20pm and 4.40 to 5.20pm, arriving close to the Three Kings 6.15pm and anchored 7.20pm. Mainly sunny with light/mod wind. Swell up to 3 mtrs, but usually less! Some swell at our anchorage.
3rd April, Three Kings to Tom Bowling Bay. Dep. 7.30am, followed a similar track back stopping to chum 10.30-11.40am and 12.50-2.25pm and arrived at Tom Bowling Bay 7pm. Weather and sea conditions much as the previous day, with a little more cloud in the afternoon.
4th April, Tom Bowling Bay to Houhora. Dep. 7.45am, our track was a bit further east than we had taken coming north, with just one chumming stop between 10.30am and 1pm which produced few birds but good fishing!. Back at Houhora wharf 4.20pm. Some cloud first thing, but mostly warm and sunny with almost no wind. Swell 1-1.5mtrs.
[supsystic-tables id=64]
NOTES
(a) Several also seen around the Three Kings.
(b) Hundreds in early morning heading away from the Three Kings.
(c) A bird I was really hoping to see on this trip, and wasn't disappointed, getting great views! Was surprised how similar it is to Buller's shearwater at first glance, though the white is a striking difference! Almost identical in size.
(d) Both intermediate phase birds, one flew round the back of the boat for several minutes!
*These two species were both new for my NZ list bringing it to 237 using the Wrybill Birding Tours, NZ list. The white-naped petrel was my first lifer of 2010.
Red-billed and kelp gulls, variable oystercatcher (6), pied shag (10) and white-faced heron (2) were seen at Tom Bowling Bay, and red-billed gull (lots) and sacred kingfisher (1) at the Three Kings. The Three Kings subspecies of bellbird  was heard whilst we were at anchor here, but, unfortunately, not seen.
Additionally, the following were seen as we sailed back up the harbour at Houhora at the end of the trip;
Little black cormorant, c.25
Pied cormorant, c.20
White-faced heron
Pacific reef heron, 3
Variable oystercatcher, c.30
Pied stilt
Bar-tailed godwit, c.10
Kelp gull
Red-billed gull
Caspian tern, 1, surprisingly, the first (and only) tern of the trip.
As well as the wildlife watching, a bit of fishing was done in order to provide both food for us and also to use for chumming. Fishing took place at our anchorages, whilst travelling and whilst stopped to chum. This provided several great feeds, of a quite amazing variety of species, all deliciously fresh! On the 1st, we ate paua and snapper, the 2nd, mainly blue cod, but supplemented with terakihi, trevally and butterfish (aka greenbone)  and the 3rd saw us dining on sushimi of albacore tuna followed by king terakihi. Some fishing was also done on the way back to Houhora on the 4th, providing us with tuna and hapuka to bring home! I'm no fisherman but did pull up a 26.5lb hapuka on the last day!
NIGEL MILIUS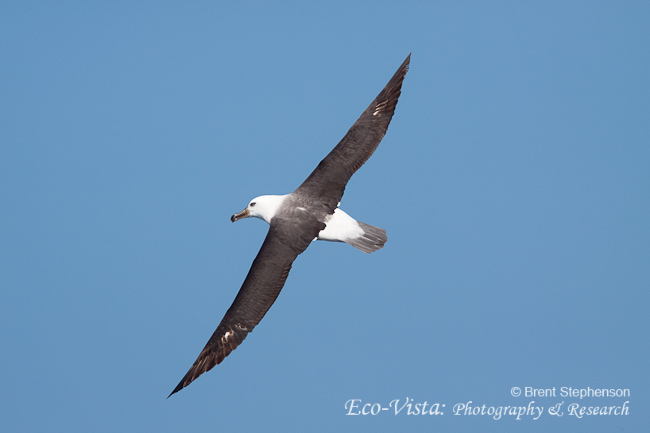 Above: Immature Campbell albatross
Above: One of the Bryde's whales seen on the second day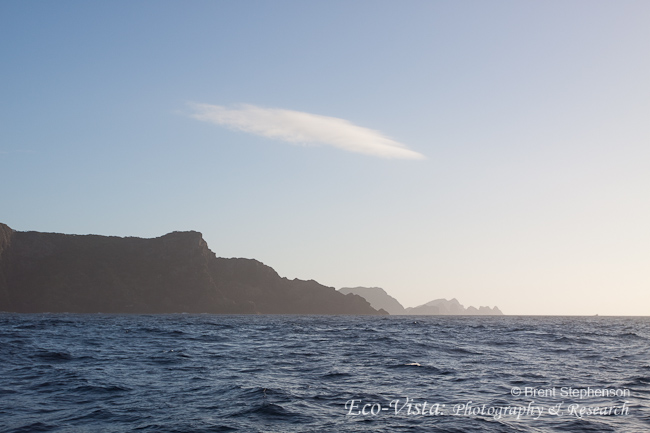 Above: View of the Three Kings islands as we cruised to our anchorage on the second night
Above: View of the Three Kings islands as we cruised to our anchorage on the second night
Above: Kermadec petrel, one of the stars of the trip with at least two birds being seen on the third day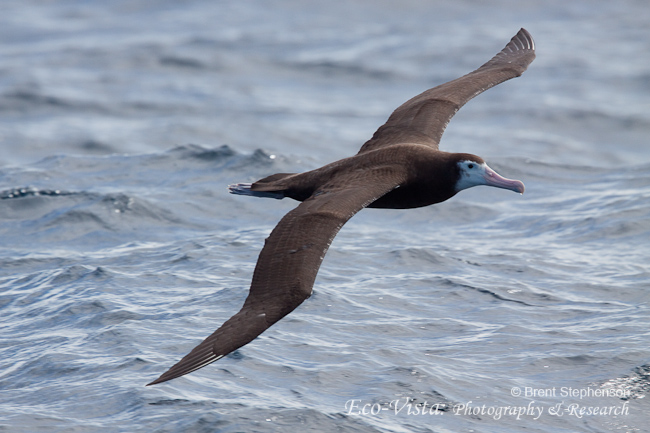 Above: Juv wandering albatross – probably a New Zealand wandering albatross
Above: A single sooty shearwater was seen during the trip
Above: Pomarine skua with beaut 'spoons' seen on the last day
The above images are copyrighted. If you would like to use them, then please contact me first.