Ian 'Sav' Saville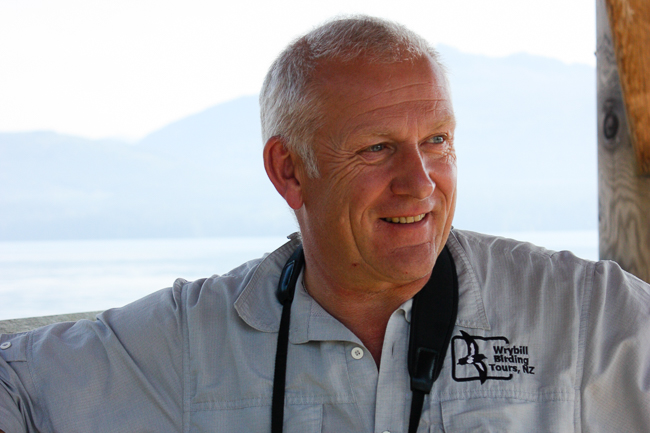 Sav was born and brought up in London. He started birding in the early '70's and was fairly active in the British twitching/birding scene from then through to the late '80s – building a British list of just on 400 (which was quite a lot in those days!). British birders will probably appreciate the following: Sav was an eye-witness to the infamous Reading Sewage Farm Black-winged Pratincole incident, he has seen TWO Tennessee Warblers in Britain, and he won many instant friends by finding an obliging Eye-browed Thrush on St. Mary's in 1988.
Sav moved to New Zealand in 1989 and stayed for nearly 3 years, before having to return to UK in 1991. In late 1993 he went to Saudi Arabia for 2 ½ years (during which time he was a regular contributor to "Birding World"), and then arrived back in New Zealand in 1996.
In all this time Sav has travelled extensively, and been birding in each of the continents except South America. His 20+ years experience with British and European birds, and that gained during 8 trips to North America (both USA and Canada) will be of great use to visiting birders from those areas, since he is readily able to make comparisons with New Zealand birds.
His birding experience in New Zealand is also extensive, having travelled throughout the country on birding trips, as well as concentrating a lot of time on his 'local patch' – the Manawatu Estuary, where he has found many rarities among the common visitors. Sav has been the Ornithological Society of New Zealand (OSNZ) Regional Recorder (c.f. County Recorder in UK) since 1996, and was the OSNZ Regional Representative for the Manawatu Region from 2000-2011. He was then appointed to the OSNZ Rarities Committee. Sav moved to Hawkes Bay in early 2014, with the Ahuriri Estuary and surrounds now being his 'local patch'.
He was a contributor to Hadoram Shirahai's "Complete Guide to Antarctic Wildlife" published by Alula/Princeton University Press in 2002, writing the New Zealand portion of the "Gateways to the Antarctic" chapter.
Sav was also a key player in the rediscovery of the supposedly-extinct New Zealand Storm-petrel, being on the trip in January 2003 when the species was initially resighted, and being the first person onboard to see the bird. Read about the rediscovery here and the latest information here.
Contact Sav: Cell +64 276 803 740| Email: sav@wrybill-tours.com
Brent Stephenson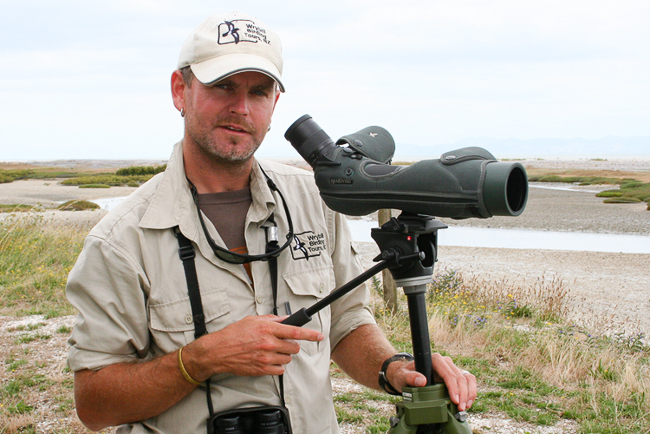 Brent was born in Hawke's Bay, New Zealand, in 1974 and was brought up in Hastings. He was interested in the outdoors and nature at an early age, taking his first photos of birds at about the age of 8 and then starting to bird soon after. During a family holiday to the UK in 1984 he began birding in earnest, keeping a record of the birds seen. This began the habit of a lifetime!
Birding and photography soon became serious infatuations, and his first sale of bird photographs was made at the age of 16. Starting a Bachelor Degree in Zoology at Massey University, led to birding taking a little bit of a back stage for a while, but it soon returned and during Brent's Masterate on the 'Ecology of Morepork' – a small owl from the Ninox genus – birding once again became an infatuation.
Several trips to Australia soon started off a respectable Australian list, and in 1998 a trip to the UK and South Africa, began to build the foundations of his World List. In 2000 Brent took a trip with several mates to Queensland, Australia, managing to make it to the tip of Cape York and seeing some pretty sensational birds along the way. Another trip to Victoria, Australia in 2001 led to an Australian list tantalisingly close to the magic 500 species! This even includes a first for Australia, when Brent and his mate Rohan Clarke managed to find a chaffinch on Phillip Island near Norfolk Island.
In late 2001, Brent began the BIRDING-NZ newsgroup, to help with the exchange of birding information in New Zealand. Brent was also Regional Rep for the Hawke's Bay OSNZ from 2000-2002, and was the webmaster for the OSNZ's website for more than 10 years, creating the website from scratch in 2000.
On 24 January 2004, Brent left on possibly his biggest adventure to date, sailing with the John Ridgway 'Save the Albatross' Voyage 2003-4. The boat set sail for the Falkland Islands, rounding Cape Horn on the way. During the voyage Brent recorded and photographed the seabirds seen, as well as helping with the sailing of the boat – the English Rose VI. He then spent six weeks on the amazing Falkland Islands, where he realised that it was possible to work at sea. Later that year a trip to the Kermadecs with Mike Imber in search of the Kermadec storm-petrel, led to a boost in Brent's NZ list, and he finished the year with the 'record' year list for New Zealand of 189 species – see the Birder's totals page. This was however eclipsed in 2006, being the first person to reach 200 species in a calendar year, with 206 species.
Brent started a PhD on the 'Ecology and breeding biology of Australasian gannets' at Cape Kidnappers in 1999, and as can be seen from the trips listed above didn't let it get in the way of his birding or travelling. Hence the thesis was not handed in until January 2005, much to the concern of his supervisors.
As with Sav, Brent was also a key player in the rediscovery of the supposedly-extinct New Zealand Storm-petrel, organising and participating in the trip in January 2003 when the species was initially resighted. The photos taken by Brent on that day were the first ever taken of a live New Zealand storm-petrel and led to the realisation that the bird seen wasn't actually a black-bellied storm-petrel – see the photos and read about the rediscovery here and the latest information here. Since the discovery, Brent was initially involved in ongoing research on these birds, capturing six of these birds at sea, but is no longer involved due to other commitments.
Since finishing his PhD Brent has worked in a number of different areas, having worked for Department of Conservation (Boundary Stream Mainland Island), contract research work for proposed Windfarm projects, involvement in the Cape Kidnappers and Ocean Beach Wildlife Preserve, and work on small Expedition cruise ships. Since 2006 he has worked on small Expedition cruise ships for a number of different companies, in Antarctica, the Arctic and many places in between (38 countries in 2008 alone!), all started from a seed sown in the Falkland Islands. Currently, he spends a large part of his year overseas on these small ships, juggling that work with guiding here in New Zealand, and his photography business – most of the photos on this site were taken by him. The highlight for 2013 was publishing his first book – Birds of New Zealand: A Photographic Guide – detailed on the FAQ page. Take a look at his blog site to see where in the World he is or check out his photography website – www.eco-vista.com
Contact Brent: Cell + 64 274 426 638 | Email: brent@wrybill-tours.com
Phil Hammond
Phil Hammond was born in Canada, but spent his boyhood in small villages in rural Norfolk, England, where he grew a passion for nature and birds and acquired what Norfolk people in those days called a "countryman's eye" [roughly translated as a tendency to notice small details in nature].
Although he has travelled to more than 30 countries, his home base for the last 50 years has been Auckland and he is proud to be a Kiwi.
In his 20s, 30s, and 40s sport, career, and young family took most of his time but he always had a pair of binoculars and a bird book or two [he now has over 100!]. He first joined 'Forest and Bird' over 30 years ago.
His interest in birds turned full circle when, in 2003, he dumped his casual NZ bird list and started from scratch listing only birds absolutely positively identified, and a general interest returned to a passionate obsession. Since then his NZ list has passed 250 species.
He loves nothing better [except a successful twitch] than watching a big flock of 1000s of shorebirds for 4 or 5 hours hoping to pick out something unusual from the mass, although his favourite ticks on his NZ list, have been as diverse as Black Robin, Bounty Island Shag, Dunlin, Straw-necked Ibis, and Franklins Gull.
He has served on the executive council at Miranda for several years and also on the Bird Roost Advisory Group in the Manukau harbour, and is a regular attendee at OSNZ meetings, censuses etc. He really enjoys showing visitors our birds, especially endemics, and knows where to find them.
Contact Phil: Cell + 64 21 029 20285 | Email: philxhammond AT yahoo.com
Matt Jones
Matt was born in Kent in the south east of England and from a young age had an interest in all wildlife but particularly birds. He was a proud member of the Young Ornithologists Club and always had his nose in a bird book.
During a brief gap in bird watching Matt played a high standard of rugby, including representative level, and was fortunate enough to play at Twickenham.
Early years of birding were spent in his home county at Dungeness, Elmley and Oare Marshes. Kent with its corridor of marshland and reed beds provided the ideal location for Matt to get his fix of waders, one of his favourite groups of birds.
The twitching and listing bug soon took a hold and Matt travelled the UK far and wide to get birds on his list, finding a few rarities along the way such as American Robin and Roller. His UK list stands at over 400 birds.
Overseas birding initially took Matt to Mallorca where most British birders cut their teeth birding away from their home turf. He has since travelled extensively around Europe, North America, Asia, Pacific Islands as well as Australia and New Zealand. Highlights of these trips included seeing Tiger in India, Leopard in Sri Lanka and most recently Kagu in New Caledonia. The Kagu was on Matt's "most wanted bird" list and is now on his world list!
It was during one of these trips to New Zealand that Stewart Island found its way into his heart and since 2007 is where he calls home. As a freelance bird watching guide, Matt enjoys showing fellow bird watchers the vast variety of seabirds on pelagics, the endemics of Ulva Island, and the iconic kiwi during evening trips. He has led TV and film crews on his trips, and also works on an annual project to monitor forest bird call counts.
On his days off, Matt goes bird watching! Stewart Island is not the easiest place to twitch from so he has become a local patch watcher finding his own rarities. These include Black-faced Cuckoo Shrike, White-naped Petrel on Stewart Island and a Nankeen Kestrel in Southland.
Matt began dabbling in digi-scoping in the late 1990s. He has since upgraded to a digital SLR and has been fortunate enough to have his images published in books, magazines and websites both nationally and internationally, but he sees himself as a bird watcher first and photographer second. Visit Matt's website.
In his spare time, he has volunteered for the Department of Conservation; in 2009 for the Kakapo Recovery Programme on Codfish Island; in 2010 helping to tag Great White Sharks off Stewart Island; and most recently gathering data for the Southern New Zealand Dotterel project.
He is also a volunteer for the Stewart Island/Rakiura Community & Environment Trust doing Blue Penguin surveys, banding Sooty Shearwaters and Kiwi/Morepork/Weka bird call counts. In 2011 Matt became Chairman of the Ulva Island Charitable Trust, a group that (with DoC) works towards keeping Ulva Island open to the public, remaining predator-free, and aspiring to be one of New Zealand's premier bird watching locations.
Contact Matt: Cell + 64 27 213 1155 | Email: matt AT mattjoneswildlifeimages.com
Neil Robertson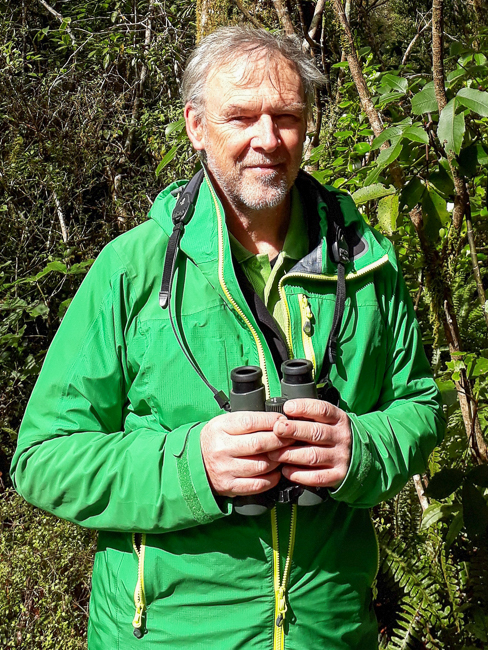 Neil spent his early years on his parents' farm in Kent, south east England, and has had a keen interest in wildlife and birds for as long as he can remember. He tried bird photography for a while during the early seventies without much success, so eventually settled on being a bird watcher first with occasional photos as a bonus.
In his final years at school he would often 'bunk-off' early with a mate to go sea-watching from the sea cliffs on the Isle of Thanet and remembers seeing and photographing the very first Northern Fulmars to breed there in the early seventies.
Another friend met while studying at Nottingham University in the early to mid-seventies introduced him to bird ringing and the Wash Wader Ringing Group and the next few years found him mist-netting and cannon-netting a wide variety of waders along the Lincolnshire and Norfolk coast. He continued his ringing training at Sandwich Bay Bird Observatory, where he encountered a wide range of migrant passerines, marshland breeding birds at Stodmarsh and Sturry Lakes and the shore-birds at Pegwell Bay.
Career and family commitments in Scotland during the early 80s meant Neil's birding activity slowed down for a while, but he still regularly worked a local patch at Fife Ness on the east coast, where he found a number of rare migrants and vagrants, including the first red-billed chough in Fife for nearly a century. The late 80s saw the twitching bug take hold and soon Neil was combining work trips with birding in many parts of the UK, with an annual mid-October trip to Scilly becoming a regular feature. When he left the UK to move to New Zealand in 2005 his UK list was 435.
Overseas birding initially took Neil to Florida, Australia and New Zealand and Trinidad and Tobago during the 90s. He has since travelled and birded extensively in Europe, North America, South America, South Africa, India, China, Australia and South-east Asia.
Neil has spent the last ten years guiding in Fiordland, a huge national park in the far south west of New Zealand's South Island, showing his guests the amazing scenery and wildlife in this very special area.
Contact Neil: Cell + 64 21 152 6275 | Email: neil.robertson AT osnz.org.nz
Wendy Hare and 
Nigel Milius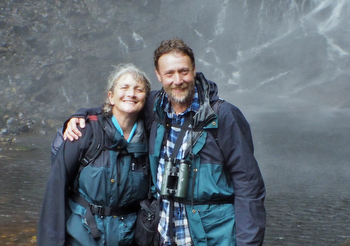 A wife and husband team, based near Whitianga on the Coromandel Peninsula  who are both well travelled and passionate birders with interests in all aspects of natural history.
Wendy was raised on the family dairy farm near Whitianga and subsequently studied Agriculture at Massey University. Like many Kiwis, she went on the big "OE" (Overseas Experience) and met Nigel while visiting Fair Isle Bird Observatory (Shetland Islands) in 1991. A decade later they returned to New Zealand and later married at Opoutere (Coromandel Peninsula) where Wendy was looking after New Zealand Dotterels. She has done much work (volunteering and paid) with Department of Conservation and other organisations such as the Chatham Island Taiko Trust and Supporters of Tiritiri Matangi Island, and has been a member of the Pukorokoro Miranda Naturalists Trust (PMNT) council for many years. She has also walked around two thirds of Te Araroa, the 3,000km walkway from the top of the North Island to the bottom of the South Island, and hopes to complete the last 1,000km soon.
Nigel is originally from Manchester, England, and trained as a chef when he left school; not because he wanted to run any fancy restaurant, more to provide an opportunity to travel and watch birds! Apart from Fair Isle, he worked as a chef on British Antarctic Survey research stations in the Antarctic (including overwintering 3 times), a summer in the Falkland Islands and 12 months in Australia. For the last 17 years he has worked as a guide on tourist vessels to Antarctica, "getting paid for his hobby!", and now proudly claims he hasn't cooked professionally since last century! As a result of this he has a particular passion for seabirds.
Wendy and Nigel have worked together in the Antarctic and the Arctic, and have led wildlife watching trips in the Bay of Biscay, and around the Shetland and Orkney Islands as well as in New Zealand, and have helped with PMNT shorebird surveys in both China and North Korea. They describe the division between work and play as happily very hazy and in the last few years have been birding in UK, Australia, South Africa, Namibia, Peru, Chile, Argentina, Malaysia, Borneo, UAE, Galapagos, Madagascar, Nepal and New Caledonia amongst other places, Nigel's world list recently passing 3,000.
Both have travelled and birded extensively around New Zealand and its offshore islands and look forward to sharing their love of the country and its birds with you.
Contact Wendy and Nigel: Cell + 64 21 277 2517 | Email: miliusandhare AT gmail.com